Your contract rates made visible

Your existing vendor agreements may be uploaded on the system. Obviously, if you have completed your tender on the system, they are uploaded automatically. The benefit is that your meeting planners always have this information right where they need it.
When meeting planners search for suitable meeting venues, these are displayed in a particular priority:
Your own, internal meeting venues (optional)
Your contracted vendors
Vendors that offer general discounts to Meeting Manager users
All other vendors in the selected region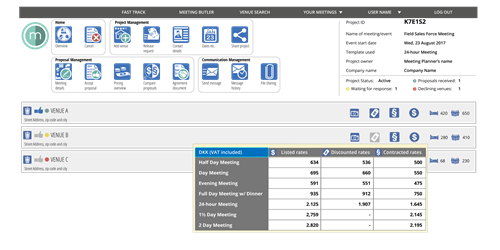 Even though you may have very good agreements in place, we strongly recommend that you always get proposals from at least 2-3 vendors. Rates vary over time and not only by the season. Meeting venues often will look at 'currently expected demand' when determining their opportunities for offering more competitive rates and this may vary from one vendor to another. And - if you receive an attractive proposal from a non-contracted vendor, you can use this information to negotiate with your contracted vendor to match the rate.