About Meeting Manager for venues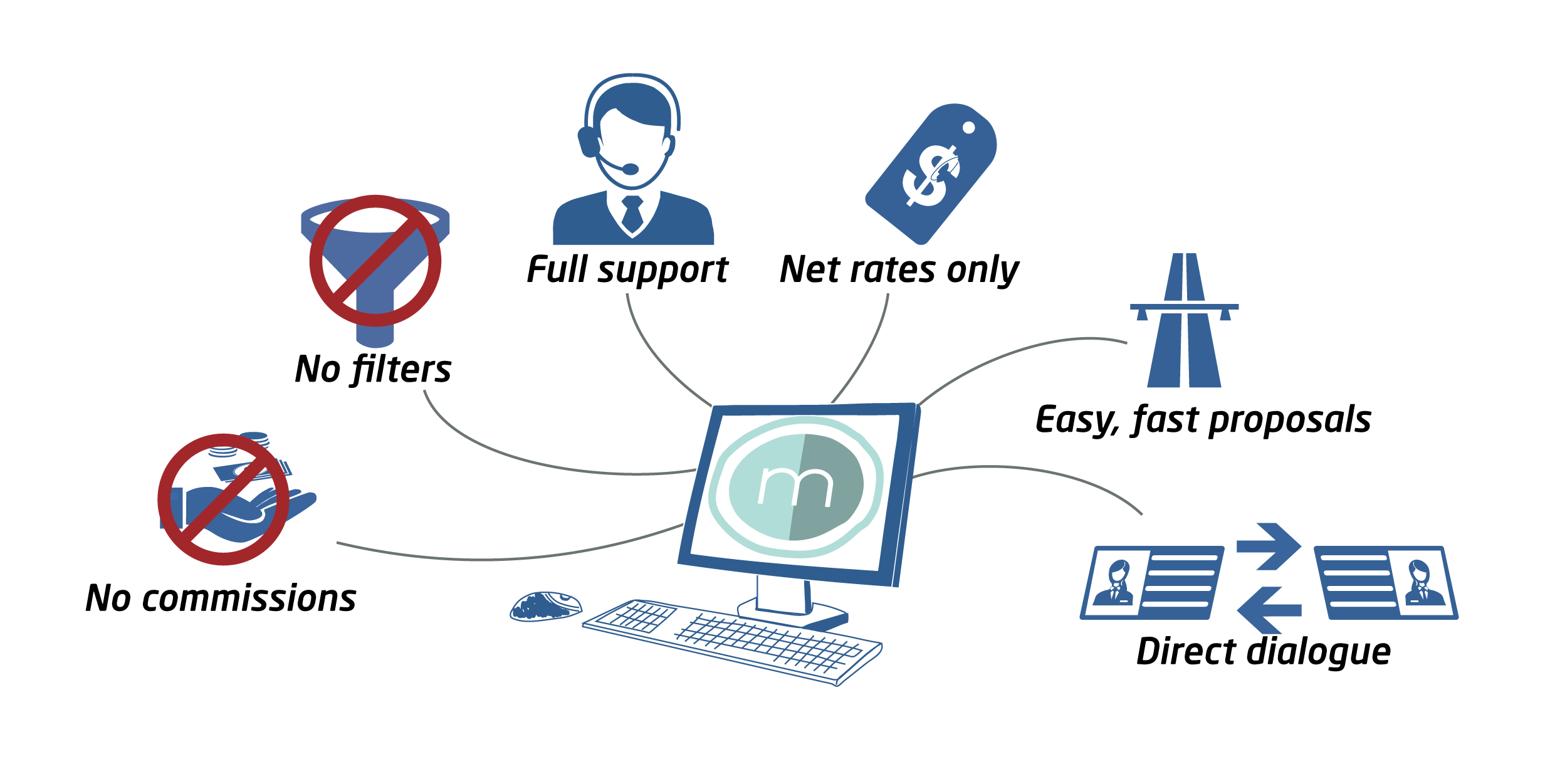 Meeting Manager differs from other online players in the meetings and events space: Our mission is to provide customers with full and perfect transparency when sourcing off-site venues for their meetings and events. To achieve that objective, we have a few strategic imperatives that should be of interest to you: We charge no commissions, we charge no sales fees and we do not markup your rates.

In addition to al the tangible services from the platform and its services and features, we also provide our customers with an almost outdated approach to service. We never leave our customer unattended and we really don't care if it's the annual 2,500 delegate event or it's a trivial half-day meeting for 6 persons. This, and our highly praised concierge service ("Meeting Butler") are probably the key reasons why our customers chose to work with us.
Essentially, you could say that they're buying a platform from where to effectively manage their M&E programs with perfect transparency, yet leaving all the corporate meeting planners in perfect charge of all their sourcing projects - and in touch with their vendors.

Our business model is really what sets us apart from others in the online space. As we are essentially providing customers with a platform from where to manage their M&E activities, we believe that they should pay for our services. This means that you will be able to to do business with our customers without having to consider commissions, sales fees or risk that your rates are marked up by a 3rd party.
Meetings and in particular local meetings is generally speaking an almost personal matter - trust plays a big role. Trust between you and the customer and in turn trust between you and us. We believe in partnership and we believe in efficiency. That's why with provide you with all the contact details of the customer with every request - and even a communication solution to allow you to communicate freely with all customers at any time.
The reason..? Well, we believe that you and your customer are the ones that should do the talking. Our mission is to bring you together and to capture the data from requests, proposals and agreements - and to make sure you both feel comfortable at any and all times.

Every day life with Meeting Manager is easy for you as a vendor. We provide an efficient mail based notification routine that keeps you abreast with requests, both new and changes to existing ones.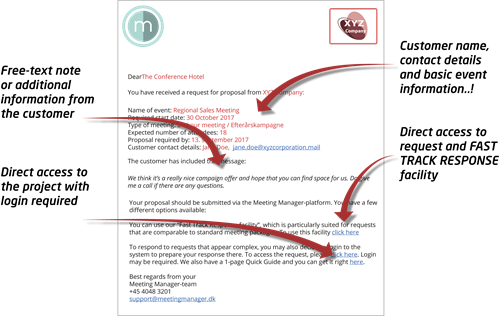 Whenever a new request is released for you to consider we send you a mail that outlines essential details of what the customer is looking for. The mail has a few links that takes you directly to where you want to go - whether it's the system's FAST TRACK RESPONSE-facility that allows you to respond with no need to login or you want to access the request in the system to enjoy access to the full range of facilities.
Responding to requests is easy - consider the FAST TRACK RESPONSE-facility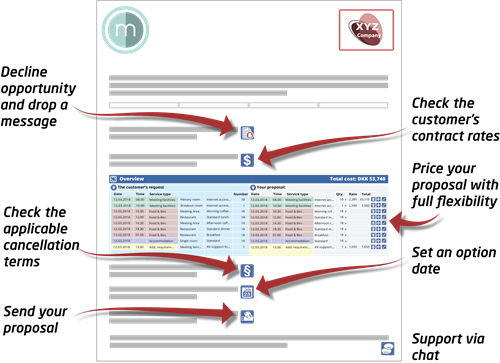 Most proposals may be prepared, uploaded and released for customers to see in less than 60 seconds because the response page include vital information, like agreed rates for meeting packages (contract customers) and the agreed attrition terms. The pricing grid allows for complete flexibility: You may price with package rates, itemised pricing or any combination of the two - and you have direct access to support via the built-in chat function.

To establish a working relationship, we basically need two things: We need to have some basic information to allow for the customer to find you using the system's search engine - and we need to know where to send the initial notification mail once a request is on its way to you.
As said, it's free of charge to be on Meeting Manager and it's free of charge to receive and respond to requests - and even to win the business our customers award. Sometimes, however, you may have a need to draw additional attention and if/when this becomes relevant we suggest we talk about what other options we may have.
To establish a profile on Meeting Manager, please click here.